Leo Valledor on Painting: An Interview with David Bourdon, New York, November 1965 (2008)
Linda Dalrymple Henderson
Leo Valledor on Painting: An Interview with David Bourdon, New York, November 1965 (2008). Edited and introduced by Linda Dalrymple Henderson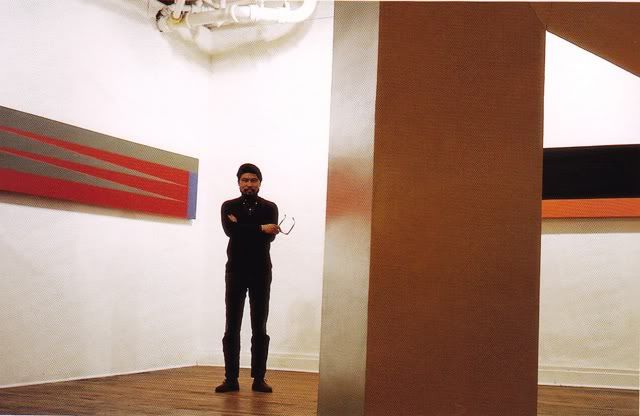 Leo Valledor at Park Place Gallery, 1966.
The art of Leo Valledor was central to the impact of the Park Place Gallery group in New York in the 1960s.1 Valledor had moved to the city from San Francisco in 1961, along with other of his fellow graduates of the California School of Fine Arts who relocated there in the late 1950s and early 1960s (Dean Fleming, Peter Forakis, Tamara Melcher, and Frosty Myers), along with Berkeley graduate Mark di Suvero. Several of the group moved into a low-rent building at 79 Park Place in lower Manhattan, and the friends soon converted the top floor of the building into a space to share their art and play the free jazz and other sound experiments that complemented their painting and sculpture. The core group grew with the addition of new friends, Ed Ruda, Robert Grosvenor, and Tony Magar. Both in their informal gallery 79 Park Place and later at 542 West Broadway, where they incorporated as "Park Place, the Gallery of Art Research, Inc.," adding David Novros to the group, the ten artists pioneered a new conception of a "gallery" as a space for performances and for the exchange of ideas that was unprecedented in New York.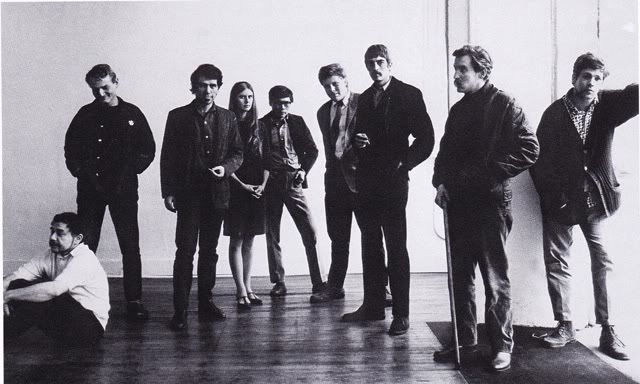 Park place gallery group (L-R) Edwin Ruda, Dean Fleming, Peter Forakis, Tamara Melcher, Leo Valledor, Robert Grosvenor, Forrest Myers, Anthony Magar, David Novros, (Not pictured Mark di Suvero), 1966.
At the time Park Place opened in their new space on West Broadway in fall 1965, critic David Bourdon interviewed members of the group for the article he published in Art News in January 1966, "E=MC2 à Go-Go," a title that reflected the group's commitment to bold, new art focused on optical energy and dynamic spatial paradox.2 Carbon copies of Bourdon's typed transcripts of the interviews exist in the Archives of American Art, among the archival materials donated by dealer Paula Cooper, who served as the primary director of Park Place in the West Broadway location. Bourdon's notes for his November 14, 1965 interview with Valledor provide a remarkable opportunity to hear the painter speak about his painting and his general interests, as well as his relationship to the group itself. Valledor's comment, "I don't know how much I identify with these guys . . . ," is significant, since Bourdon was trying to define a common Park Place "look," and Valledor shared the sense of other of the members that, while they had key elements in common, their approaches remained individual. Valledor, for example, shared for a time a close relationship to Robert Smithson and Sol LeWitt, whom he invited to exhibit in a Park Place show with him in October-November 1966.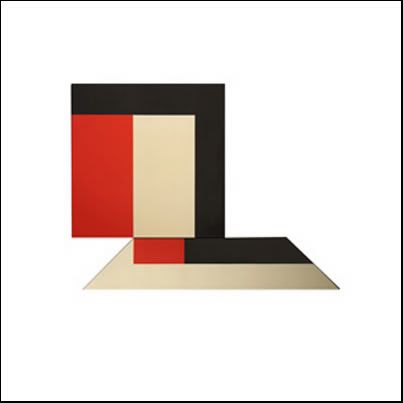 Valledor, Last Triangle, 1976.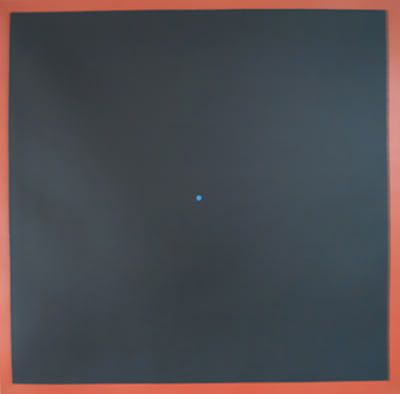 Valledor, Untitled, 1963.
The interview excerpts that follow are the statements by Valledor that Bourdon placed in quotation marks; I have generally omitted the critic's notes to himself, except where they provide important clarification. The transcript thus provides a rare opportunity to hear Leo Valledor speak directly, conveying his passion directly, conveying his passion for painting and his investigations of color, shape, and space—as well as his deep engagement with music.3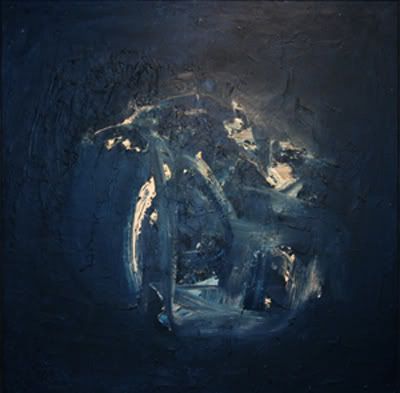 Valledor, Whose Blues, 1958.
On his background in California:
"I loved the people I met while I was studying there [California School of Fine Arts] who had an influence on me. That's when I first met Peter Forakis and Wally Hedrick and Manuel Neri." [Bourdon notes, "Knew Frosty and Dean out there"; "Met Di Suvero in S.F. thru Manuel Neri."]
"When I got there, they were still digging the Clyfford Still scene. It was three years after he'd left. I was there in '53 and there were still a lot of the Korean veterans around there. One of the most explosive paintings I've ever seen, the first painting I ever saw of the Abstraction Expressionist wave, was by James Kelly, a big black and white painting. And I was just a commercial artist student, and I saw these paintings and I didn't know you could do them, even though I had always been turned on by art, I've been drawing all my life, I didn't know you could paint any way you saw things. And here I saw all these people doing wild experiments, so I thought I would do it. It was exactly what I needed. Up until that time I had ideas for record jacket designs and things connected with music. [A]lthough I was always very very abstract and when I saw you could paint this way, it just opened me right up."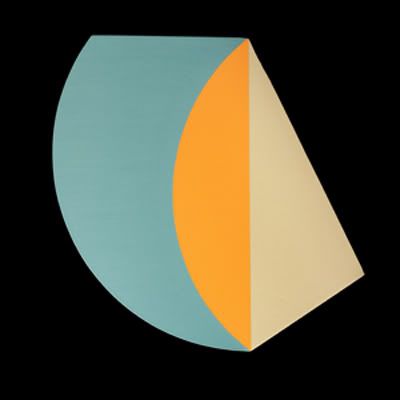 Valledor, Uncompassio, 1985.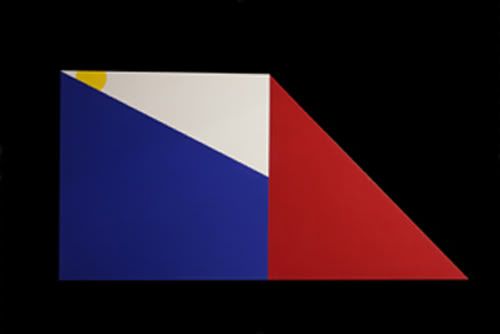 Valledor, Artist in Residence, Mid 1980's.
On Park Place:
"Looking for cheap studios." "There was this building down on Park Place that Dean found and I took the third floor and Frosty took the bottom floor and Dean took the floor in between. And I had the lease to the top floor and we decided to turn that into a gallery space or a place to show."
"There's no real common denominator for every member of the group. I don't know how much I identify with these guys, I could just as easily have made friends with someone else. It's just that I knew a lot of these guys in S.F., just sort of got together and talked about our ideas."
"It [Park Place art] uses geometric elements, but I don't see it as geometric art. I don't see it in terms of mathematics, in terms of anything else but a visual thing." "I've read it (Topology) and I'm interested in it but I've never thought of it as influencing my ideas or my concepts of visual space."
 
Valledor, Untitled 2, 1981.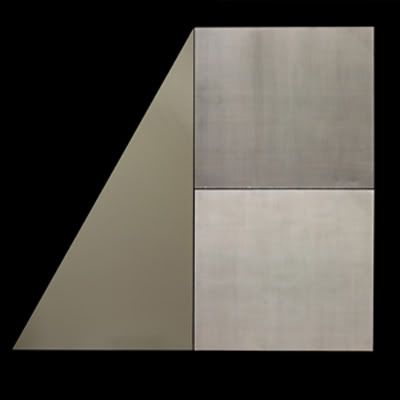 Valledor, San Francisco Spring (Sweet Rain), 1974.
On his painting:
"We were expressionist in form. I've never done a figurative painting in my life. I've always been interested in the plastic idea, no matter what kind of method I use. I'll always be interested in trying to make som[e] thing out of the rectangle. I was always interested in each part as a jigsaw puzzle."
"I always thought it was impossible to work with a horizontal at that time. They always reminded me of landscapes. Most of my things were vertical and almost like this rectangle."
"It's kind of like moving from point to line to get a kind of dynamic which the dots didn't have. They were just too separate. Only I could see them. It was just too subjective and I wanted it to be more solid and more dynamic, more projecting. And this has been my direction in the color too . . . I read them like connecting lines, points of a structure. And you could see them between the dots and I still can. I asked people: Can you see the line there in between the two dots? And they said no and I said I'm not getting over."
"Even in my earlier work I was always concerned with that edge. I didn't want a vignette. But the peripheral idea, the idea of seeing space on the outer edges of your eye came in my earlier work. And it was like taking the dot and combining it with the earlier things I had done with color. And it was just a logical step to do that."
"That's an idea I have about complementary colors and the rest is intuitive. I mix colors the way I want to see it. But it has something to do with the complementary color of warm color vs. a cool color because it is the only way you can create this kind of vibration which I see between colors. It's like placing two certain not[e]s of sound together and you a get a tone." [Bourdon clarifies for himself, "No figure-ground; optical vibrancy."]
[Bourdon notes, "On peripheral vision."] "The shape of my things are really meant to fill your field of vision, that's where the shape came from."
"I've been working with random shapes since 1959, trying to fit something within a random shape. And I started my first shaped canvasses in 1962 or 1963. Up to then I had been very used to working with any kind of shape and making something work in it." [Bourdon adds, "Earlier shapes on plywood."]
"The shape also does funny things when you look at it from an angle. A lot of times you get the illusion of a shape coming out into the room. The other shape that I've been working on, like that parallelogram shape down there seems like a 'warp' with a square[.] from an angle. And as you walk by - - this is a sculptural idea - - it begins to shift its shape and change like a movie. The shaped canvas is really a sculptural idea, altho I don't come out into 3-D."
[In response to Bourdon's question, "What constitutes a shaped canvas (does relief have light and shadow?)] "I don't think too much about those things, those differences; I just try to play it by eye." "All my concern is with color."
"I was working with this kind of form which is optic and all I did was take these 3 bands, which was the most interesting point and make a zigzag out of them, just cut in half, so that the two colors would interchange."
"By four-dimensional color I mean the notion that it exists within time. And I have this idea about time being part of all these ambiguities that we see in dimensions, like the idea that you read a line two- dimensionally and the difference in [if] that line [were] coming straight toward you as a point. I feel that the difference in that is time." "[C]olor affects space, the harmony stays the same."
  *   *   *  
Although Valledor did not speak directly to Bourdon about his philosophy, he was also deeply rooted in Asian thought, and his formal elements, such as the dot centered in monochromatic canvas, carried metaphysical meaning for him as well. All of these issues lay behind Valledor's subsequent painting, when he returned to San Francisco in 1968, after the Park Place Gallery closed its doors in 1967. The works in the current exhibition demonstrate beautifully many of the themes he discussed with Bourdon as well as his journey into new forms of painting, as he continued to "play it by eye." The growing critical recognition of Valledor's art, along with that of the Park Place Gallery, restores a vital element to the history of artmaking in the United States from the 1960s onward. The period was far richer and more inventive than previous narratives of the post war art, dominated by Clement Greenberg's equation of modernism and flatness (and hence the exclusion of many artists), have suggested. The paintings of Leo Valledor offer one of the most powerful testaments to that fact.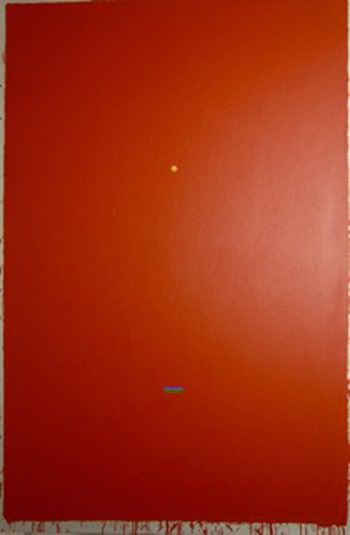 Valledor, Earth Sign, Mid 1960's.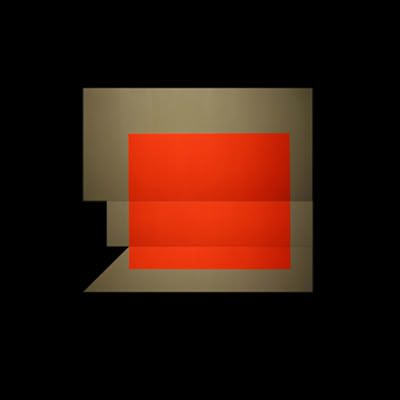 Valledor, Lust, 1975.
1 The information in this introduction is drawn from the essay by Linda Dalrymple Henderson, "Park Place: Its Art and History," for the 2008 exhibition she organized, Reimagining Space: The Park Place Gallery Group in 1960s New York (Austin, TX: Jack S. Blanton Museum of Art, 2009).
2 See David Bourdon, ""E=MC2 à Go-Go," Art News, 64 (Jan. 1966), pp. 22-25, 57-59. Bourdon drew on that interview as well for an article on the gallery's opening: "Park Place: New Ideas," The Village Voice, Nov. 25, 1965, pp. 11, 25, which featured a photograph of Valledor with one of his paintings.
3 The Bourdon typescript is held in the Park Place Gallery Art Research Inc. Records, 1965-67, Archives of American Art, Smithsonian Institution, Washington, D.C. Generally, the statements here follow the order of the interview, but in a few cases paragraphs have been rearranged to group statements on related topics together.
All images courtesy of Togonon Gallery and Copyright Valledor Estate, 2011.
This article was published in the catalog of the exhibition on Leo Valledor "Play It by Eye" in Togonon Gallery, San Francisco from 22 October - 23 November 2011. Acknowledgment goes to gallery director Julina Togonon for permitting this article to be re-published.
About Leo Valledor
Leo Valledor (1836-1989) is one of America's pre-eminent Asian American artists from the mid-century. He was a Filipino American artist who grew up in the Fillmore district of San Francisco, California. His artistic gift earned him a scholarship at the San Francisco School of Fine Arts (now San Francisco Art Institute) where he befriended a lot of the avant-garde artists of his generation and became an early member of The Six Gallery. He exhibited with Wally Hedrick, Jay de Feo, Manuel Neri and Peter Forakis, among others. He moved to New York in 1961 where he co-founded the historic Park Place Group and developed his pioneering minimalist style and showed with other artists of similar interests including Sol Le Witt, Robert Smithson and Donald Judd.
Art critics have placed Valledor's work in the league of Ellsworth Kelly, Barnett Newman, Leon Polk Smith and Frank Stella. He taught at the San Francisco Art Institute and U.C. Berkeley and was a two time recipient of the National Endowment for the Arts grant. His work is in the collection of the San Francisco Museum of Modern Art, De Young Museum, Oakland Museum, Seattle Museum, Philadelphia Museum, Crocker Museum, Allentown Museum, Yale Art Museum and St. Louis Museum.
Valledor's Filipino American heritage, the profound influence of jazz as well as being in the epicenter of the cutting edge formal experiments in the art of his generation, all contributed to a unique body of work. It opens a fruitful discussion among art historians about the untold histories of the 1960s art scene of which Valledor was an important player, his untimely death at the age of 53 cutting short his artistic explorations.
About the author
Linda Dalrymple Henderson is the David Bruton, Jr. Centennial Professor in Art History and Distinguished Teaching Professor at the University of Texas at Austin. She is the author of Duchamp in Context: Science and Technology in the Large Glass and Related Works (1998), and The Fourth Dimension and Non-Euclidean Geometry in Modern Art (1983), which will be reissued by MIT Press in fall 2012 in a new enlarged edition that includes the Park Place Gallery artists. The Curator of Modern Art at the Museum of Fine Arts, Houston in the 1970s, she was guest curator for Reimagining Space: The Park Place Gallery Group in 1960s New York for the Blanton Museum of Art at The University of Texas at Austin in 2008.
Sunday, September 28, 2008
Original Author:
Linda Dalrymple Henderson